"HEYRIDES"
Take a ride through the Orchard, back in time when things were simpler…or were they? As you slowly bounce along the tree-lined road, you'll learn about the history of Altapass and its tourism plans with a grand hotel, how the railroad (check out the Clinchfield model layout before you leave) planted the first orchard, how Kit came to buy the Orchard and its mission, AND of course, the 48 hats (and children) of Charlie McKinney, plus lots of other factual and fun stories of the Orchard.
Every weekend. Weather dependent.
June–August:
Saturday 12:30 & 2:30/Sunday 12:30
September–October:
Saturday 12:30 & 2:30/Sunday 12:30 & 2:30
Please see Events Calendar for more information
Reservations not required, but encouraged.
*NO TICKETS SOLD AFTER 12:15 & 2:15*
Group "heyrides" are available Wednesday-Friday.
Please call 828-765-9531 for more information


U-PICK
We think spending time at the Orchard at Altapass is an experience for the senses. Especially in the fall when U-Picking is in season. If you're not certain when your favorite apple will be ready for picking, click below to check approximate ripening times. Understand that they're best guesses only. We work with, not around mother nature. And if you're still not sure, email us. We're happy to help you plan your visit!
GENERAL STORE
Visit the Orchard's General Store for that old-timey feeling. Pick up locally made jams and jellies, honey (from our own bees and other local keepers), pickled veggies, salsas, and dips. Then try the homemade fudge in oh! so many flavors. Take a turn around our kid's corner with shelves filled with toys that don't require batteries or a WiFi connection. Get a bowl of hot apple pie ala mode and step out on our back deck to take in spectacular aromatic views.
Open 10 to 5, Sat/Sun in May; Wed-Sun June 1-October 29
LIVE MUSIC
Beginning June 4 through October 29, the Orchard hosts live music—from old-timey to bluegrass to country through contemporary—all on the newly renovated pavilion stage and all free. From 2 until 4 on Saturday and Sunday, have a seat and listen to great music performed by regional musicians. Views are spectacular. And dancing is always encouraged.
And don't forget the music jam Thursdays from 1 to 3. Everyone invited
APPLE CORE GRILL
The Apple Core Grill is open on weekends to serve you delicious lunch fare. Order up a scrumptious burger or the special of the day, then have a seat at one of our many picnic tables or play a game of cornhole while you wait. Top it off with the Orchard's own "Green Appleade".
Open
JULY: Friday-Sunday, 11 to 3 pm
AUG-OCT: Wednesday-Sunday, 11 to 4 pm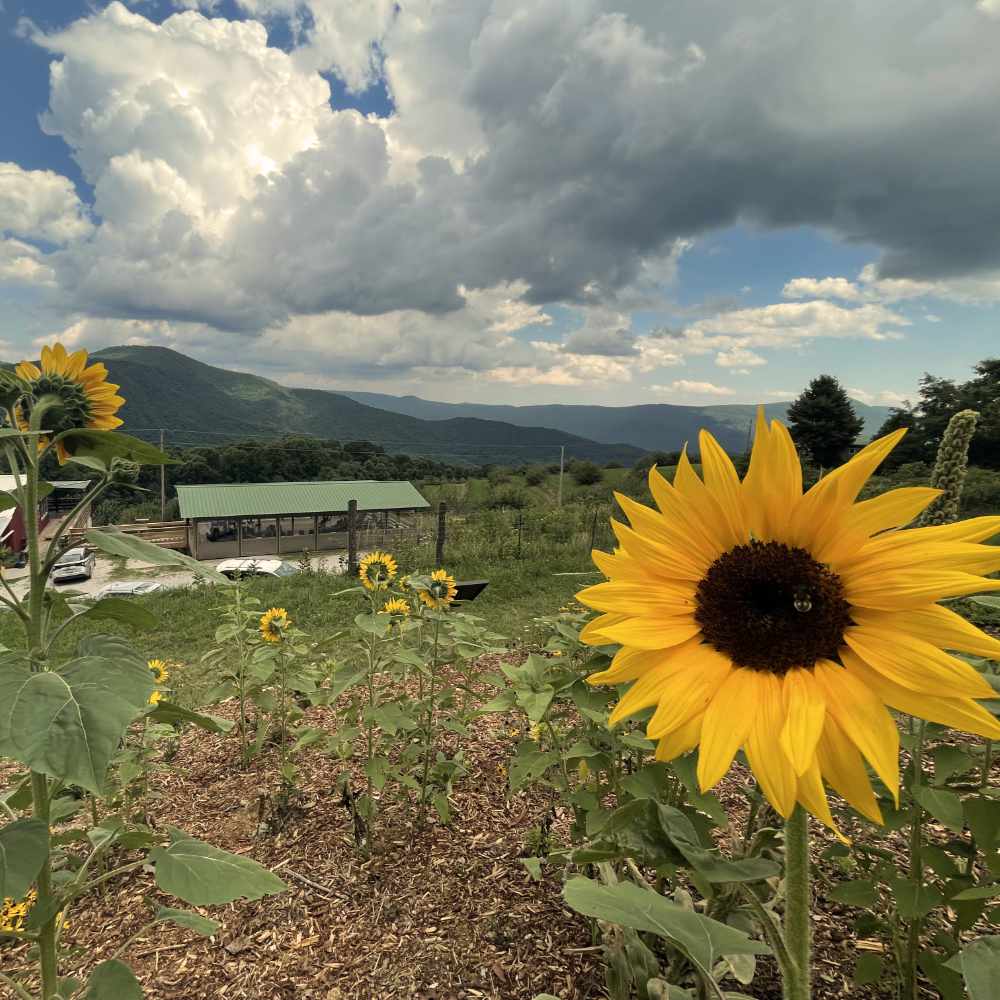 BUTTERFLY GARDEN
Just a short walk up the path in front of the red barn grows the recently regenerated Peoples Pollinator Garden with over 35 varieties of pollinator friendly plants. It was revitalized in memory of co-founder Judy Carson who first planted the garden almost three decades ago. Take the path up the hill (across from the barn) to the garden and follow the map at its entrance around the garden. Learn about our ecosystem while viewing the pristine Blue Ridge Mountains that surround the Orchard.
BEES, BIRDS & BUTTERFLIES
Spend a bit o' time in the Education Center. Search for the queen bee in her summer indoor habitat. Step out onto the deck in spring and watch the barn swallows swoop as they stake their claim to nesting spots…anywhere they want. As the season moves into fall, return and watch the monarch morph from egg to larva to chrysalis—emerging finally as a beautiful butterfly. At season's end, stop by and pick up a few milkweed pods to plant and feed your own monarchs.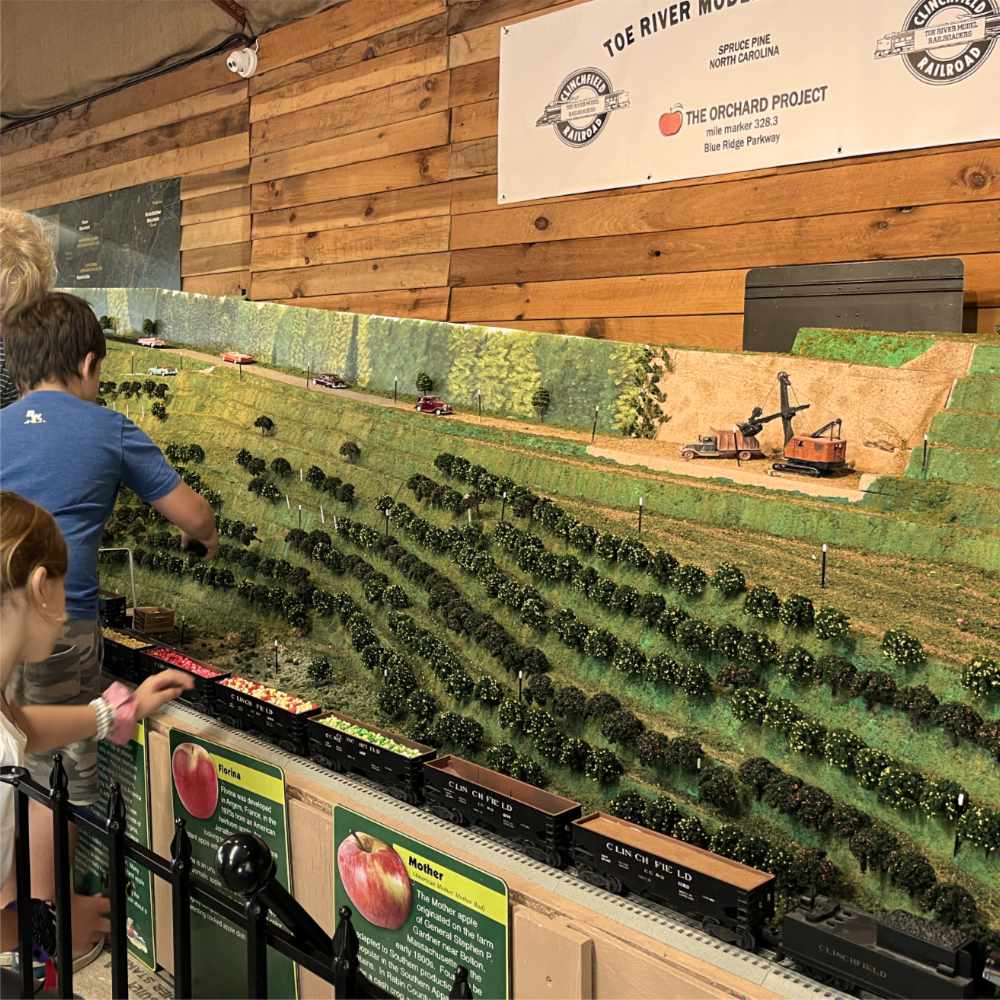 MODEL TRAIN
Most local folks have heard the distant rumble of trains passing through the north end of Mitchell County and on into McDowell. It's now called CSX, but from the early 1900s until 1983, it was known as the Clinchfield Railroad. Yet, few realize that if the railroad had not stopped and planted an apple and peach orchard beside the tracks (believed to become a great revenue stream), the Orchard at Altapass would not be.

Our thanks to the Toe River Model Railroaders of Spruce Pine who created a replica of our own history. Visitors can now experience the beginnings of the Orchard at Altapass from Revolutionary War times through today's orchard with its music, its apples, and its many stories.


WALKING TRAILS
The Orchard has over eight walking trails, originally designed by Eric L. Gressel—some more challenging than others. But they're a great place to walk, year-round, with family, friends, or just by yourself during those quiet times. And don't forget to bring your dogs, on leashes of course. They're always welcome. Stop by the Apple Shed or the Education Center (during open hours) and pick up a map to guide you along.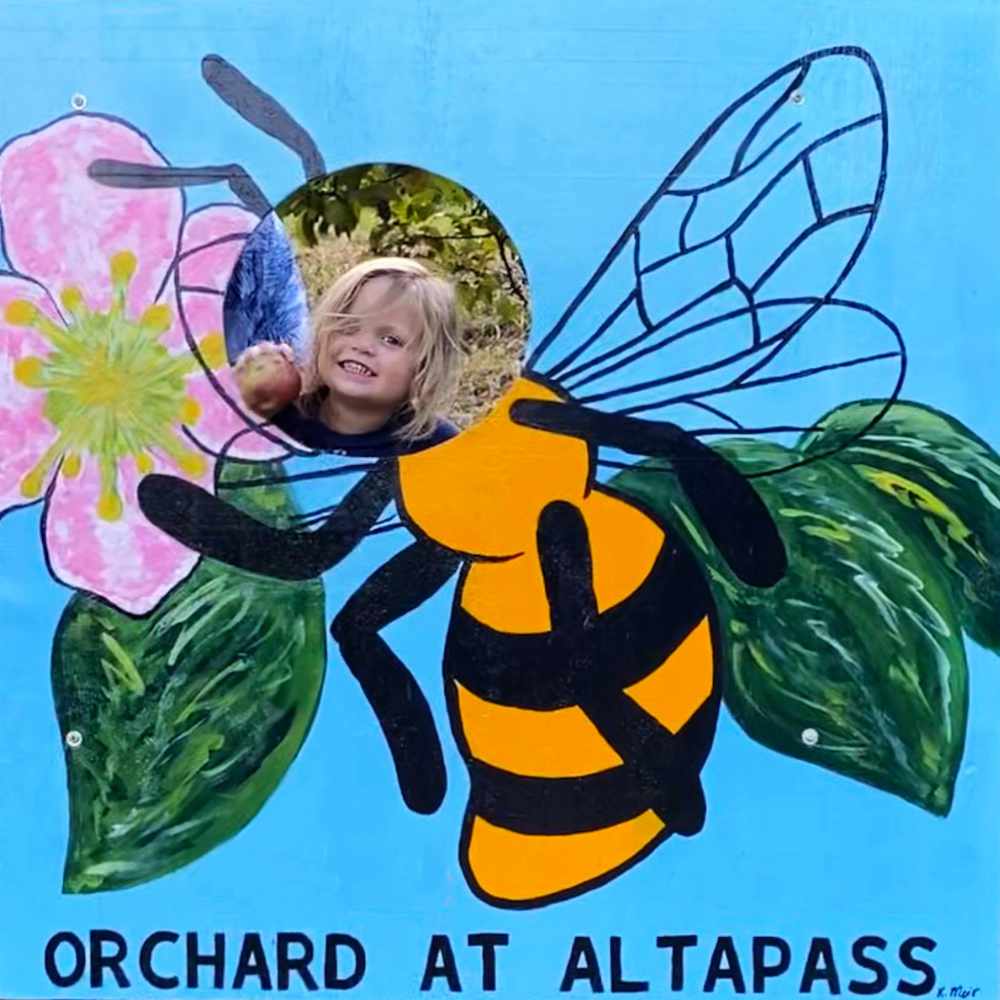 FUN, FUN, FUN
All kids, all ages can enjoy fun at the Orchard. Waiting to pick apples or go on a hayride? Grab a coloring sheet and take the scavenger hunt to our stand-up props. Perhaps a game of cornhole or stacking up a jenga tower. Checkers anyone? Orchard style.