2023 Hours
June 1-Oct 29:
Wednesday-Sunday
10 am to 5 pm
Location
1025 Orchard Road
Spruce Pine, NC 28777
mile 328.3 Blue Ridge Parkway

Phone
Inquiries: 828-765-9531
Store: 828-467-4282

Group Trips
We welcome groups—all ages, interests, and itineraries during the week (Wednesday-Friday)—to the Orchard for a hands-on experience. Trips are tailored to all ages and considerations.
Experiences last approximately two hours.
Call 828-765-9531 or email for more information
Heyrides
Heyrides are scheduled every Saturday/Sunday beginning in June. No reservations are required, but recommended. Please call 828-765-9531. Group heyrides are available during the week (Wednesday-Friday), but reservations and minimum numbers are required for weekday excursions.
All heyrides are weather and road dependent.
Call 828-765-9531 or email for more information.
Basics
Welcome to the Orchard at Altapass. All of the exhibits in our Education Center, Pollinator/Butterfly Garden, and live heritage to contemporary music (Saturday/Sundays, including dancing, of course) are free.
Free parking. There is additional parking just past the red barn next to the office.
Accessibility
Our General Store and restrooms, access to the back deck, Pavilion, and Apple Core Grill are all wheelchair accessible. The Apple Shed is located behind the red barn (ground level) and a short walk around the building.
U-Picking is a walking experience through the Orchard on the trails. Although maintained, the trails are not wheelchair accessible. All apples are available for purchase at the Apple Shed.
Given the changing conditions of the trails, strollers are not encouraged for U-Pick experiences but decisions are up to the individual visitors. (The State road flanking the Orchard offers views of the fields and a smooth graveled walk for strollers.)

If special arrangements are needed for a visitor, i.e. assistance getting up to the Pollinator Garden, please call 828-765-9531 a few days before visiting so we can accommodate your needs.

Pets
We are a pet-friendly orchard. Good-natured dogs (and cats) are always welcome. Currently, there are no restrictions as to where they are allowed. All pets must be leashed and well-behaved. Water is always available in front of the red barn. Owners are expected to provide disposal bags and clean up after their pets.

Photography
The Orchard at Altapass is private property, but we appreciate the photographers' desires to capture the beauty of the fields. With registered permission, the property may be photographed between 7 and 10 am and from 5 to 7:30 pm only—unless alternate arrangements are made. Please contact the Orchard to schedule a date and time.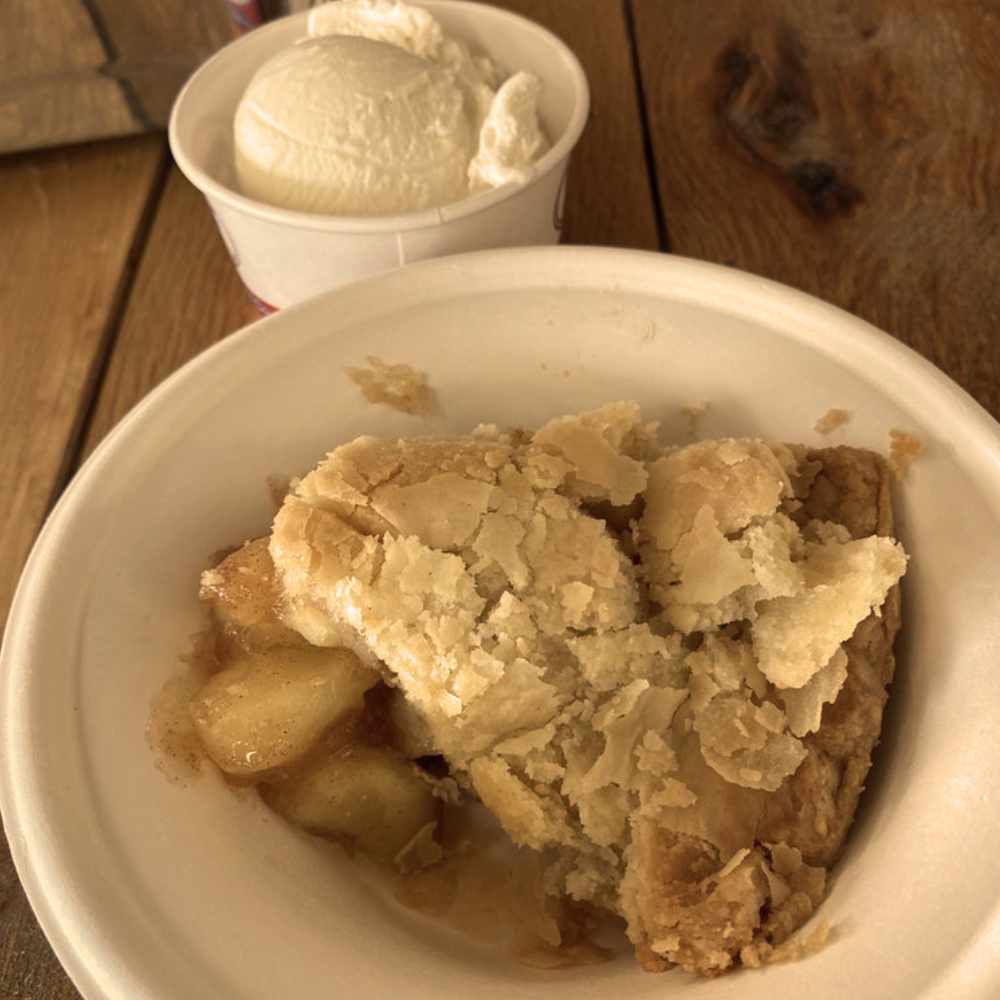 Food for Thought
You won't go hungry at the Orchard. The Apple Core Grill is open in June and July on weekends (11 to 3 pm); August-October from Wednesday-Sunday (11 to 4 pm). During the week, try our hot apple pie with a scoop of icy cold Hershey's ice cream. Or grab a slab of homemade fudge in a dozen flavors.

Although you're not permitted to drink alcoholic beverages on-premises, we are thrilled to offer Molley Chomper's hard cider, including a special blend made from the Orchard's own apples.

Visitors are always welcome to bring a blanket or use one of our many picnic tables to enjoy a picnic lunch brought from home. *Tables at the Apple Core Grill are reserved for purchased meals.
Plan Your Visit
Welcome to the Orchard at Altapass and the majesty of Blue Ridge Mountains. There is so much to do and see in this vast region of winding roads, crackling rivers, and pristine vistas in a backdrop of verdant peaks and lush valleys. The Orchard straddles Mitchell and McDowell counties and is only 30 minutes from Yancey County. Come for the apples, stay for the music and a bite. Experience a weekend of fun in the region. Something for everyone. Check out the county chambers then plan your visit. We invite you to discover Western North Carolina.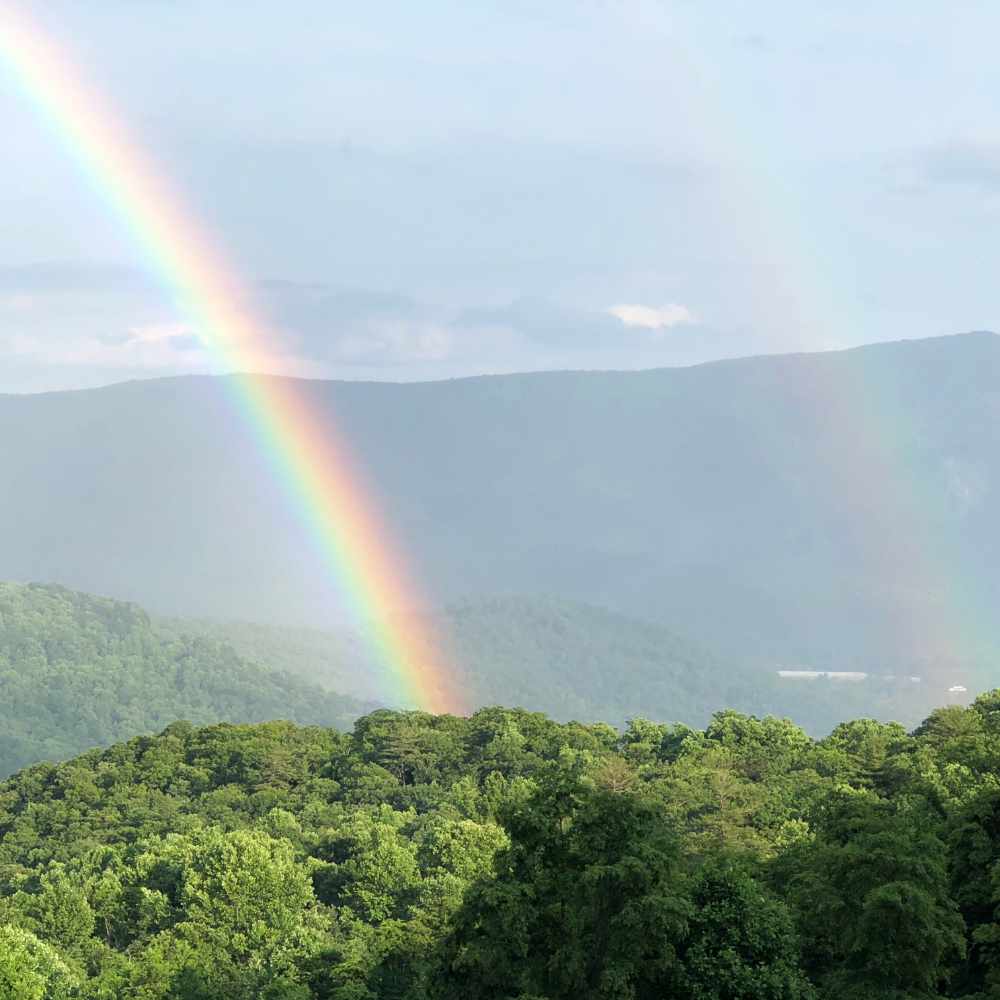 Directions
From Spruce Pine or Marion, NC, follow NC Rte 226 to the Blue Ridge Parkway (across from the NC Museum of Minerals) Turn north (left) onto the Parkway; go 3 miles to Orchard Rd. Turn right (A VERY TIGHT TURN), then right again at the intersection, follow large green arrow into Orchard.
If you are driving an oversized vehicle (motor home or attached trailer), PLEASE continue past Orchard Rd. to the next overlook (1/2 +/- mile–North Cove Valley Overlook), turn around; make a left onto Orchard Rd.
If coming from the North, turn left off Parkway onto Orchard Rd. (see above).
Final Note
The Orchard at Altapass is private property, a 501 (c)(3) non-profit organization. During your visit, please respect the Orchard—its apples, trees, plants, facilities, games, trails, and staff. We have only a few rules but expect all visitors to be courteous. Please don't pick the apples or other Orchard fruits when they aren't ripe, or if you haven't paid for them if they are ripe Please remember that just because an apple is red or yellow, doesn't mean it is ripe. Our field crew lets us know when, what, and where the ripe apples are. Don't climb the trees or throw apples. Responsible adults, please ensure the children under your supervision are mindful of the land's fragility and the staff's hard work to make all Orchard experiences rewarding and memorable for years to come.